Lehigh Valley, PA, September 8 2017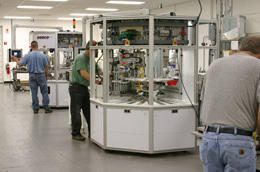 Demco Automation has been selected as one of Eastern Pennsylvania's 45 Fastest-Growing companies in 2017. According to the announcement,
Lehigh Valley Business today named 45 eastern Pennsylvania companies to its Fastest Growing Companies list for 2017 – companies identified as the region's most dynamic that have made significant contributions to the local economy.

The companies will be honored and their final rankings on the list disclosed at an awards breakfast and ceremony Wednesday, Oct. 25, at DeSales University, Center Valley.
"Demco Automation is excited to receive this award and is honored in being one of the few manufacturers in this year's rankings. Our team's commitment to supporting the complex needs of customers coupled with the infrastructure required to produce capital equipment make this accomplishment all the more rewarding. " said Stephen Maund, President & CEO.
More information about the listing can be found at:
LVB 45 Fastest-Growing Companies
Social tagging:
Automation
>
Demco
>
Lehigh Valley
>
Manufacturing
>
Pennsylvania
>
Robotics
>
Upper Bucks